Coral and Jason are the new owners of the Virgin Islands Campground here on Water Island. In the photo below, they are shown making generous $500 contributions to WICA and to WISAR, for which we are grateful, as a token of their support for these two worthy organizations. Following the photo is the press release that was issued that day, introducing themselves to the community. If you see them around the island in the coming week, introduce yourself and give them a warm Water Island welcome.
Water Island, USVI — February 10, 2022 — Virgin Islands Campground is pleased to announce that they have been acquired by the Reynolds family. Jason, Coral, and teenage son Brett Reynolds are excited about their new adventure. Located on beautiful Water Island, the campground will continue to operate with Dick and Dawn Gogin on property as your friendly camp hosts.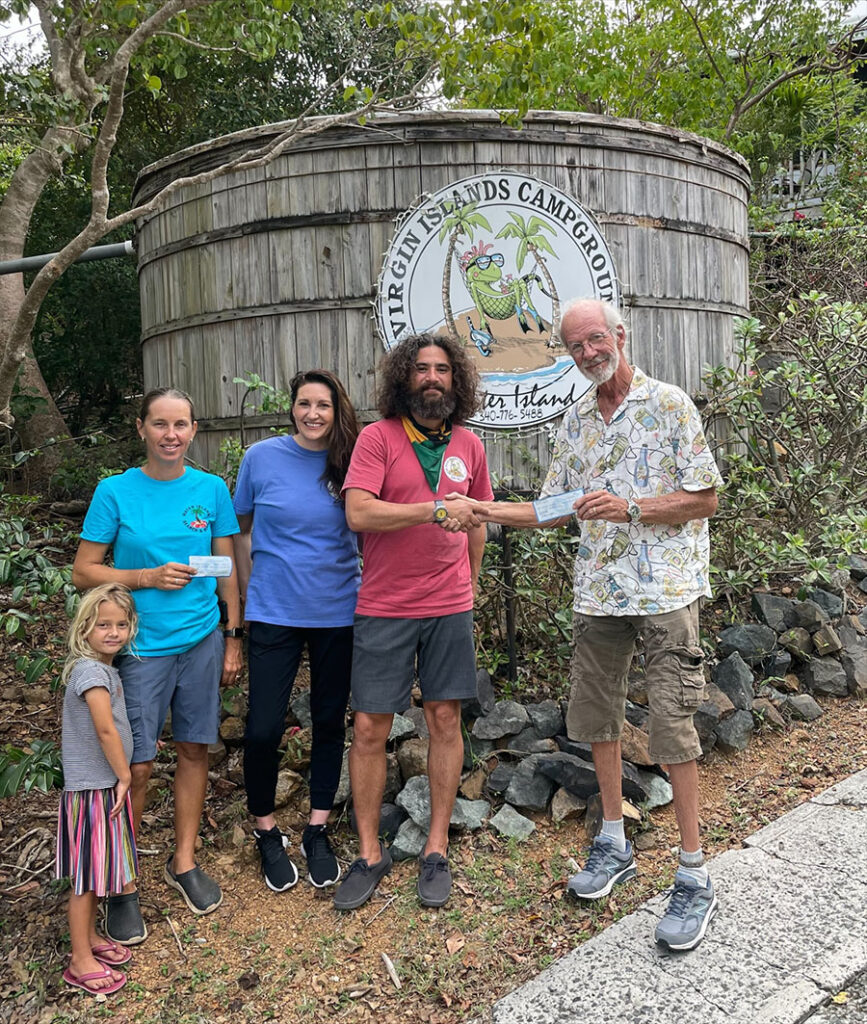 The family, who currently resides in California, has spent the better part of this decade exploring and searching for a new endeavor. Jason, an avid backpacker, and diver has spent the last 7 years in the Insurance premium finance sector and is looking forward to being closer to his family that is spread across the Caribbean. Coral is starting her 14th year at a successful plush company, where she currently holds the position of President. Brett is a junior in high school and will be completing his schooling in the Los Angeles, CA area. The three plan to use their collective skills and background to elevate the experience of campers while always keeping an eye towards conservation and sustainability.
Virgin Islands Campground is an eco-sensitive, glamping style campground with eight cottages and a panoramic suite, located on Water Island, a quick 7 min Ferry ride from St. Thomas. All lodgings have a beautiful view of the ocean to the east, where each morning you are greeted with a picturesque view of the sun as it rises above the horizon. Get to know your fellow campers in the communal kitchen pavilion as you relax and recount your adventures of the day.
In coordination with David Roselle of Water Island Civic Association and Rachel Ackley of the Water Island Search and Rescue team, the family will be donating $500 to each organization to show their appreciation for the work that they do. To get to know the neighbors and introduce themselves, Jason and Coral will be hosting a small open house at the campground on Saturday, February 19th, 2022, from 1:00PM -4:00PM.
Please stop by for drinks and snacks and get to know them.
For reservations, please visit www.virginislandscampground.com. If you have any questions or concerns, please contact Jason or Coral Reynolds at (340) 776-5488 or vicgusvi@gmail.com.
Look for them on Facebook and Instagram – @vicampground